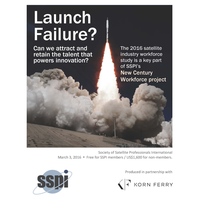 Study finds a shocking 67% of employees with between 1 and 5 years on the job voluntarily leave their companies

March 3, 2016 – New York City – The Society of Satellite Professionals International (SSPI) today released Launch Failure: Can We Attract and Retain the Talent that Powers Innovation? It is the product of SSPI's New Century Workforce program, the satellite industry's only multi-company, multinational study of workforce practices, employee compensation and engagement, and the make-up of the industry's workforce. The report, the second in a series, follows SSPI's 2015 release, Are We Winning the War for Talent?

"Two numbers tell the workforce story for our industry today. We rely on a cadre of experienced workers, age 45-54, who make up 42% of the workforce and have long tenures with their companies," said SSPI Executive Director, Robert Bell. "But a startling 67% of employees leave their employment sometime before their fifth anniversary with their companies. That's not what you would expect in a growing, healthy technology industry. Our 2016 report offers recommendations to reduce our emphasis on hiring from a small pool of experienced workers and increase our ability to attract, train and retain fresh new talent that is inspired by the story of satellite."

Launch Failure? is based on interviews with human resources leaders at major satellite industry employers in North America, Europe and Asia, as well as an online employee survey that attracted hundreds of respondents from around the globe. This combination provides a high-value portrait of an industry in competition with the biggest names in technology for the talent it needs to power the future.

SSPI conducted the study in partnership with Korn Ferry, the preeminent authority on leadership and talent, and with the support of the Spacenews, Satellite Markets & Research, Asia-Pacific Satellite Communications Council, EMEA Satellite Operators Association, Global VSAT Forum, Satellite Industry Association and World Teleport Association.

Launch Failure? is available on SSPI's website. It is free for SSPI Members, and is available on a paid basis for non-members. For more information and a copy of the report, visit www.SatelliteWorkforce.com.

About SSPI
Founded in 1983, the Society of Satellite Professionals Interna­tional (www.sspi.org) is on a mission to make the satellite industry one of the world's best at attracting and engaging the talent that powers innova­tion. With more than 4,000 members in +40 nations, it is the largest satellite industry association in the world. It delivers on its mission through a portfolio of programs:
Next Generation – Staging competitions and sharing infor­mation with university students to excite them about careers in satellite.
Leaders Quest – Identifying and honoring present and future leaders as models for the industry to follow.
New Century Workforce – Conducting the annual work­force study and engaging satellite company execu­tives in improving industry practices.
Better Satellite World – Promoting the immense contributions of satellite to commerce, education, communication and human welfare.
For More Information
Matthew Owen
Communications Manager
Society of Satellite Professionals International
mowen@sspi.org
212-825-0218 x105
---